Selecting the Right System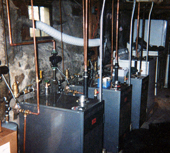 MacLellan Plumbing & Heating gives you many heating options. However, not every type of heating system is ideal for every type of home South of Boston, and some are certainly better in certain circumstances than others. That's why we're always on hand to answer your questions and guide you through the selection process.
We know that it can be overwhelming to try and select a new heating system for your home. After all, this is a big investment and this isn't the type of purchase you're likely to make often. But with us, you don't have to worry. We are experts in determining the correct heating system necessary to comfortably and economically heat your home or business.
All Heating Services
We do it all. No job is too big or too small, and our technicians have extensive experience working with all types of home heating systems. We do full new installations, including installing heating systems in new construction homes.
In addition, our technicians can perform regular maintenance and repairs on any type of heating system whether we did the original installation or not. If you're looking for someone to take over the annual maintenance of your heating system, you've come to the right place.
Types of Heating Systems
We work with all types of heating systems including but limited to; gas, oil, heat pump, forced air, heating systems combined with air conditioning. We can help you choose from an assortment of quality products we offer for installation.
We offer all of these products and our expert technicians can install them safely and efficiently. Their experience and training in the field is extensive and you can be sure that when one of our installers completes a project, it's done right.