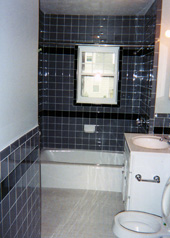 MacLellan Plumbing and Heating has been providing prompt, courteous, professional plumbing service South of Boston for over 25 years. Throughout those years we've developed countless long-lasting business relationships with our customers, both residentially and commercially. The services we provide include complete bathroom renovations in new commercial and residential buildings, remodeling jobs of all sizes, fixture replacements and installations, including water heaters, garbage disposals, sinks, faucets and toilets, just to name a few. Our service department is equipped to handle any plumbing problem you may encounter, either in your home or your business. No job is too big or small.
Plumbing Installation
If you own a brand new home or you're in the process of remodeling an old one, there are a lot of things to consider. But, one area on which you should never skimp is the installation of a high quality new plumbing system. Unfortunately, some people try to do the work themselves or pay a subpar or unlicensed contractor or handyman to do the work, and it almost never turns out well.
Poorly installed plumbing can leak more easily, wear down faster, clog quickly, and fail to drain properly. There is more involved than simply putting the right pipes in place. You need to make sure the system is capable of effectively draining the water away from each fixture and that the type of water supply is supported. Fixing the system after the construction process is complete will cost much more than doing it right the first time. Whether you are renovating an investment home, building your dream house, or updating your fixtures, we have the expert plumbers that can help you.
Plumbing Repair
Whether you have a relatively new or out of date plumbing systems repairs should be performed by a professional. Most small repairs can be fixed relatively quickly. If you have a leaky faucet, a running toilet, a drip from your ceiling or things just aren't draining quickly enough, it's best to call as soon as possible. The longer you wait, the greater the risk that your plumbing problem will create further damage in some cases mold.